Engineering, Procurement & Construction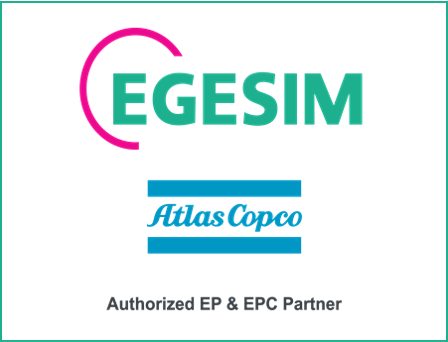 EGESIM and ATLAS COPCO have joined forces to offer the most efficient and productive solutions for geothermal power plants.
The collaboration combines ATLAS COPCO's state-of-the-art radial inflow turbine technology and variable inlet guide vanes with EGESIM's ORC (Organic Rankine Cycle) optimization and electrical and automation solutions.
EGESIM offers its engineering, procurement, and construction services to clients, as well as long-term service agreements. EGESIM also utilizes its experience in ORC power plant and BOP (Balance of Plant) electrical, mechanical, and civil engineering, electrical and control components, application software development for ORC and BOP plants, mechanical equipment and pipelines, general supplies, construction, erection, and commissioning services.
EGESIM and ATLAS COPCO have a track record of successful collaborations and are currently bidding on geothermal ORC power plant projects in Turkey and around the world.
EGESIM offers a range of services including Engineering and Procurement (EP), Engineering, Procurement and Construction (EPC), and Long-Term Service Agreement (LTSA) to clients.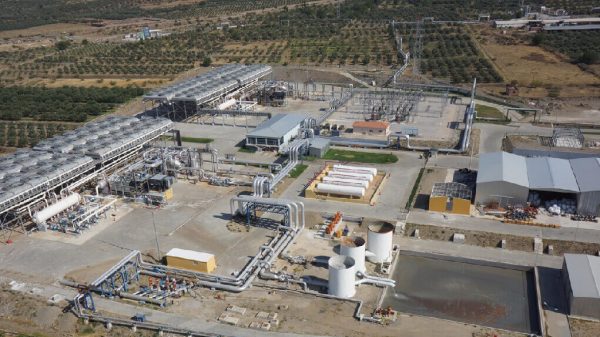 ORGANIC RANKINE CYCLE FOR BINARY PLANTS
The Organic Rankine Cycle (ORC) is a type of thermodynamic cycle that converts heat into mechanical work through the use of an organic working fluid. This process is commonly used in binary plants, where two different fluids circulate in separate cycles. The first cycle involves a heat source, such as geothermal brine or steam, hot waste gas, thermal oil, or hot fluid from concentrated solar power. In the second cycle, this heat source vaporizes the organic working fluid, which then drives a turbine to generate electricity.
One of the key advantages of the ORC is that it can produce electricity more efficiently from low to medium temperature heat sources compared to traditional steam cycles. This is because the organic working fluid used in the ORC has a lower boiling point and higher vapor pressure than water, allowing it to effectively convert lower temperature heat sources into usable energy. Overall, the ORC is a valuable tool for generating clean, renewable electricity from a variety of heat sources.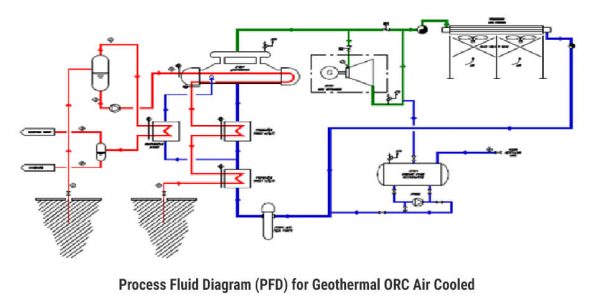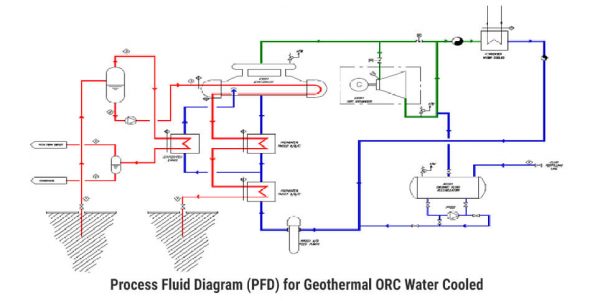 TURBINE MADE IN TURKEY
ATLAS COPCO has successfully obtained "Made in Turkey" certification for its turbines. This certification, issued by the Turkish Standards Institution, applies to all turbines supplied by ATLAS COPCO from 2015 until now.

PROJECT REFERENCES OF ATLAS COPCO – EGESIM COOPERATION
PAMUKOREN 1,2,3,4,5 GEPP – AYDIN / TURKEY 5×22,5 = 112,5 MWe
SULTANHISAR 1 GEPP – AYDIN / TURKEY 1×13,8 MWe
TUZLA GEPP – CANAKKALE / TURKEY 1×7,5 MWe
OZMEN 1 GEPP – MANISA / TURKEY 1×24 MWe
Advantage of Radial Inflow Turbine: Off-Design Performance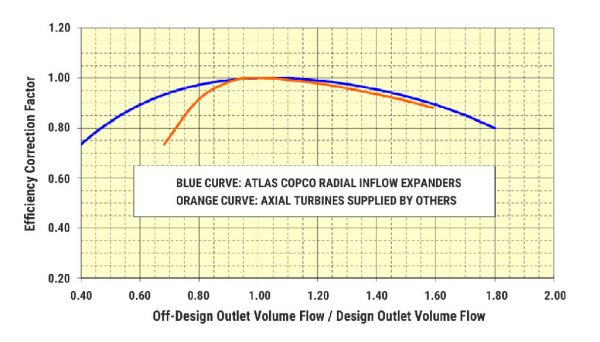 Performance Comparison of Different Types of Turbines
Some studies suggest that radial inflow turbines, also known as Turbo Expanders, may be able to produce more annual cumulative electrical power in locations where ambient temperature varies significantly throughout the year.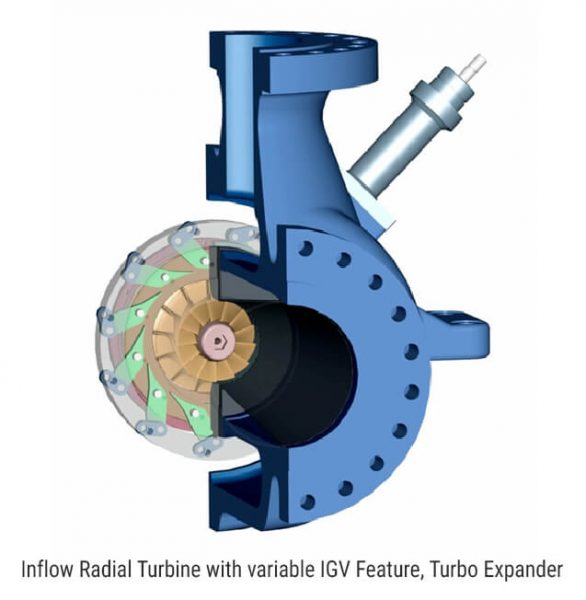 EGESIM HAS COMPLETED 26 PROJECTS FOR GEOTHERMAL POWER PLANTS IN TURKEY
The services provided by EGESIM for these projects include:
SERVICE
Engineering and certification services for MV/LV electrical switchgear and power plant automation panels

Process control and monitoring
Energy and MV switchgear monitoring
Data logging
Process Parameters Tracking
Historical data reviewing, reporting and trending
Process and energy monitoring

The heat source for these projects can be geothermal vapor, waste gas, thermal oil, or concentrated thermal fluid from a solar power (CSP) plant.
Organic Rankine Cycle (ORC) means that an organic liquid is used in the second cycle.
SUPPLIES
HV Substations and overhead lines
MV / LV switchgears
Plant automation including

Redundant or standalone PLC statitons
Distributed I/O Stations
Remote monitoring hardware & software
Server and Operator Stations comprised of industrial computers
Wireless and/or fiberoptic data lines for integrating remote stations into plant automation.

Process Instrument including;

Flowmeters, pressure / temperature transducers, positioners, level transmitters, position switches
Transformers and Motors
All cables including power, data, fiber, control and low current cables

Earthing, lighting and lightning systems